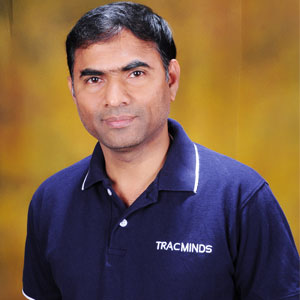 Umakanta Patra, CEO
TracMinds is a techno-functional organization with a 15-year experience in providing AI and RPA solutions for supply chain and warehouse management. Over the years, the company has branched out and extended its research in AI, RPA,Blockchain and Machine Learning to other sectors like Healthcare, Pharmaceuticals, Cybersecurity. The organization works from the ground up to understand the situation thoroughly and solve a client's issues. They do so by way of observing the client's processes, conducting project research, and market research, to then develop a solution to the issue at hand. "We do complete product and market research, and understand how to solve problems using a combination of techno-functional tools,"says Umakanta Patra, CEO of TracMinds.
TracMinds implements an extensive process to provide solutions to its customers. From the moment a client approaches the company with a problem, TracMinds assesses the issuecomprehensively and develops a possible theoretical solution. After validating the theory of the solution, the company creates an experimental Proof of Concept (POC). Based on the POC, the research team then designs a prototype and presents it to the client. Based on the client's feedback, the team then understands the extent to which it covered the client's problem and starts improving it and making better prototypes. After the approval of the final prototype from the client, only then will the team develop the definitive solution. By implementing AI- and RPA-based solutions, the company, seeks to reposition humans in places in the process that can't be automated.
Since its conception, TracMinds has successfully used its AI- and RPA-based solutions to revamp process automation for various companies specializing in fields like automobiles, pharmaceuticals, and numerous others. The effectiveness of its solutions can be witnessed in a case study wherea team from TracMinds visited an automotive client and observed the process of an automobile company. They noticed that several phases in the client's process could be automated. Some of those processes included pick and put away a sequence of parts for assembly, manually generated reports, unsynchronized physical and system inventory to name a few. After noting their observations, TracMinds proposed a solution to the company board, which after their approval, TracMinds went about implementing them. The company observed the layout automobile company's warehouse and generated a pick and put sequence, which increased the processing speed and reduced overhead. It automated the report generation system and used its AI and Blockchain to make the reports available to everyone—the company, suppliers, and customers—to improve visibility. Their AI system scheduled cycle counts to adjust the inventory every time there was a mismatch of physical inventory and system inventory. Thus, by combining AI, RPA, and the human component, TracMind's solution was able to eliminate 80 percent of errors, significantly increasing the productivity of the company.

Deploying advanced technologies TracMinds has demonstrated POC for supplier management, demand forecast, last mile delivery tracking and near real time inventory visibility. The entire supply chain components are now AI assisted including the most challenging logistics and transportation segment wherein scheduling, route optimization, vehicle optimization and various dimensions have been addressed. By virtue of it TracMind's has built value proposition for the entire SCM spectrum across Industries like Healthcare, FMCG, Financial Logistics, defence, Multi Modal transportation, heavy engineering, mining andconstruction , e-commerce etc.

In the near future, TracMinds plans to develop industrial robots, self driving forklift, automated mobile robotsfor automated warehouse and FMCG (Fast Moving Consumer Goods) systems. In addition to the supply chain, the organization is making strides in research in other fields as well. In healthcare, TracMinds is researching methods for early prediction of cancer. Their research also delves into predicting survival rates, prediction, and prevention of paralysis and heart-attacks. Tracminds also developing an emergency management system to save patients' invaluable time at emergency and Remote patient monitoring using IoT. The company is also working on a machine learning-powered cybersecurity threat preventionproduct. Thus, the organization continues to research and provide its AI and RPA-based solutions fields beyond the supply chain and successfully transform businesses for the better.